Devolver Digital has been making great indie games for more than a decade. Here are the best ones we've seen so far.
Devolver Digital is a big company that puts out a lot of great indie games. It knows when a game has potential and works with the developers to make sure the game and its presence are the best they can be.
Devolver Digital has been making games for more than ten years, and they are still making new games for so many platforms that it would be impossible to talk about all of them, no matter how much they deserve it. Instead, we'll look at some of the best games that publisher has made.
Ape Out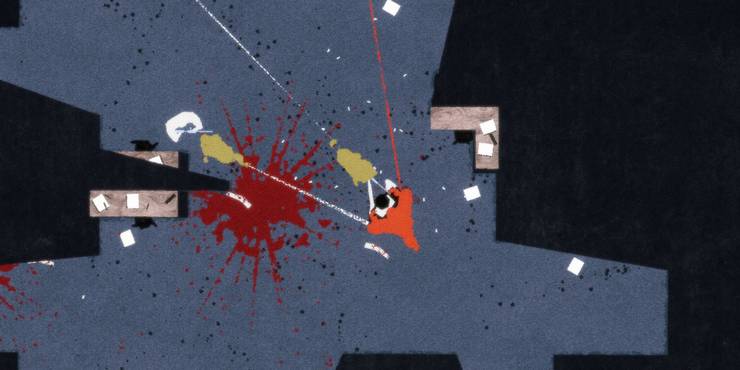 Simple, stylish, and jazzy. Ape Out is a unique beat 'em up that will change the way you think about the genre. In this top-down game, you play as an ape who is being held prisoner, but, as you might have guessed, not for long.
You'll smash and crash your way through each level, fighting armed guards and other things that try to stop you from getting out. Jazz music will play in time with everything you do. It will be calm when you're sneaking, but when you throw an enemy against a wall, symbols and drums will break the beat.
Pikuniku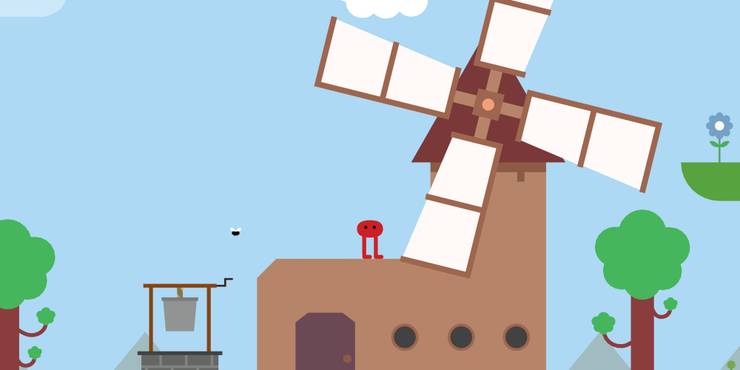 This game is strange, but what makes it great is how simple it is. Pikuniku is a game that anyone can play. There are many places to go, secrets to find, and minigames to play. The game isn't too long, and you can even do some things with other people in your area.
Even though it doesn't look like it at first glance, it's also a great game for making people laugh. The short and sweet journey has good pacing and jokes that are sometimes hilarious. It's worth getting, and it's not a surprise that Devolver Digital supported it.
Return To Monkey Island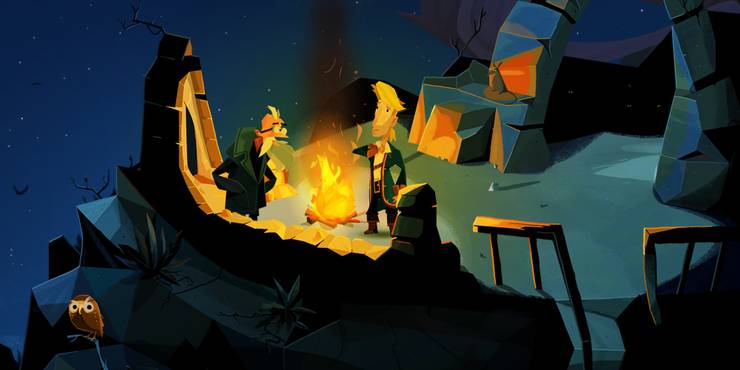 Fans of the Monkey Island series had to wait a long time for another game in the series. Return to Monkey Island gave fans what they had been waiting for. You don't have to know much about this game to enjoy it, and you can always find summaries online to help you.
Return to Monkey Island is not only a return to the series, but also to the golden age of point-and-click games and the fun of finding secrets and solving puzzles while exploring them.
Heave Ho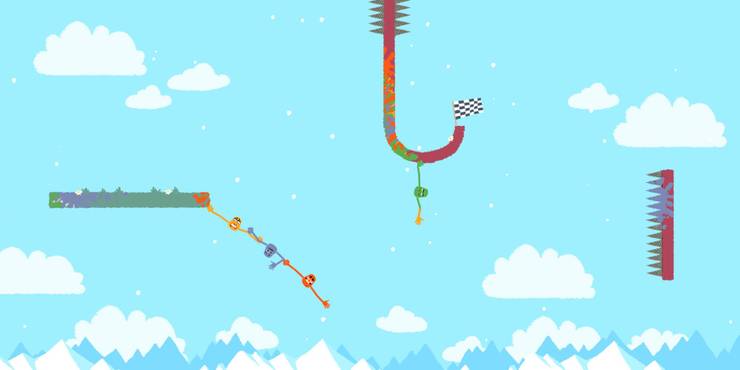 Heave Ho should be at the top of your list if you're looking for a game to play with a few friends on the couch. As a player, you'll be a strange creature with only two long arms and no other limbs. To move, you'll need to be able to grab and swing.
The main goal of the game is to get to the end of each level filled with obstacles without dying. You can also get a shiny coin at the end of each level, but you have to grab it and hold on to it while getting yourself and your team to the end of the level. With this one, you can't go wrong.
Hotline Miami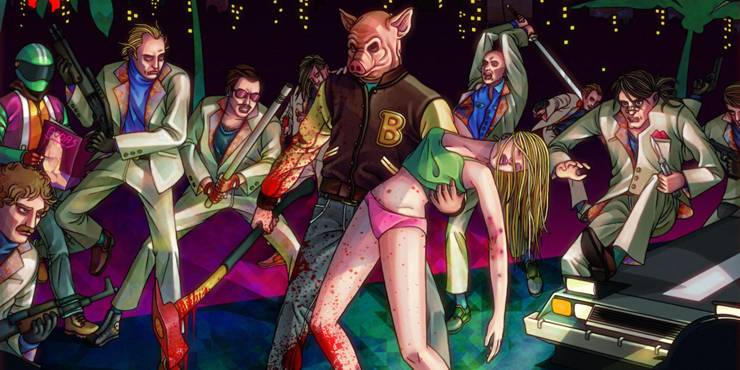 Fans of high-octane violence and old-school video games love this top-down arcade-style shoot 'em up. In the game's version of Miami in 1989, you will go on murderous rampages and try to destroy criminal underworlds without really knowing why.
The levels move quickly, and you'll need to learn how they're set up if you want to get through them without getting hurt. You'll have to shoot enemies in each room, but they'll shoot back, so be quick and try to get a high score. Even though the story and characters are strange, the game is a lot of fun to play.
Inscryption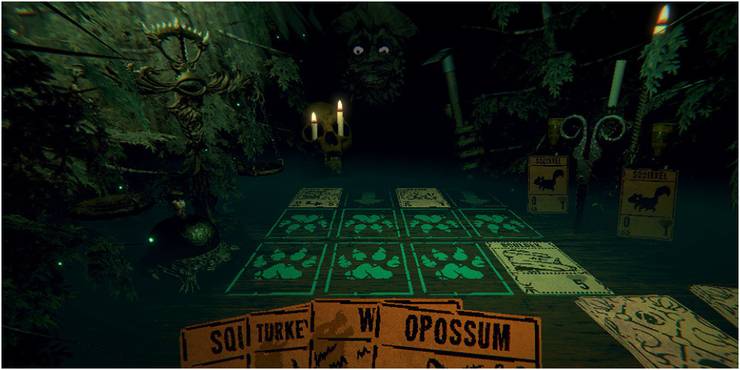 What if you had a great card game to play, but you had to do it in a very scary, unknown place against an even scarier, unknown being? So that's what Inscryption is. This game was a hit in both the card game and horror genres because it had a lot to offer fans of both.
Most of your time will be spent building a deck and playing against a shadowy figure while strange things keep happening all around you. The experience is creepy, and you can explore the places you're in to figure out what's going on. Let's just say that it can keep you busy for a long time.
The Messenger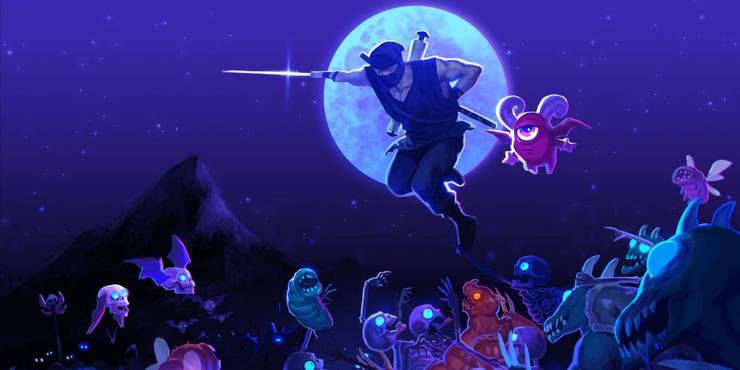 The Messenger is a platforming action game that was inspired by Ninja Gaiden. You play as a surviving ninja who has to deliver a scroll across a world with different paths. You'll get upgrades and new skills as you go, and you'll be able to get to new places when you go back to places you've already been.
The Messenger is different because it can jump from one time period to another. In the past, the game's graphics and sound will be 8-bit, but in the future, they will be 16-bit. This makes for great changes in the way the game is played and makes you think outside the box.
Death's Door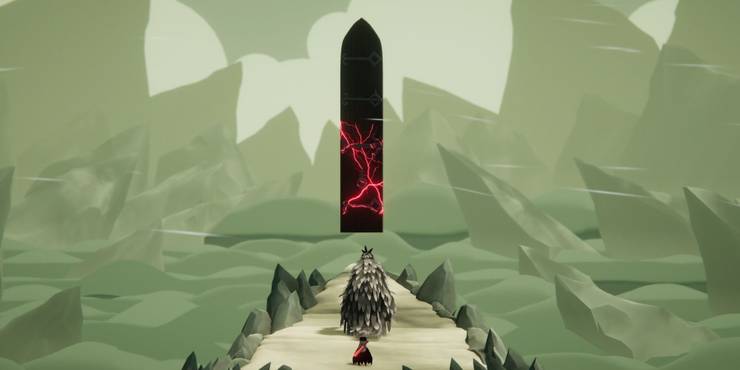 Death's Door is a newer game on Devolver's growing list of indie games. It's about a group of crows who act as the world's grim reapers. They open doors between worlds and take the souls of the people who are supposed to go through them.
As a small crow who gets caught up in a complicated mission, you must travel around the world to collect the great souls of powerful enemies in order to open Death's Door. This adventure is like Zelda in that it has great dungeons, interesting puzzles, and tough bosses to fight.
OlliOlli2: Welcome To Olliwood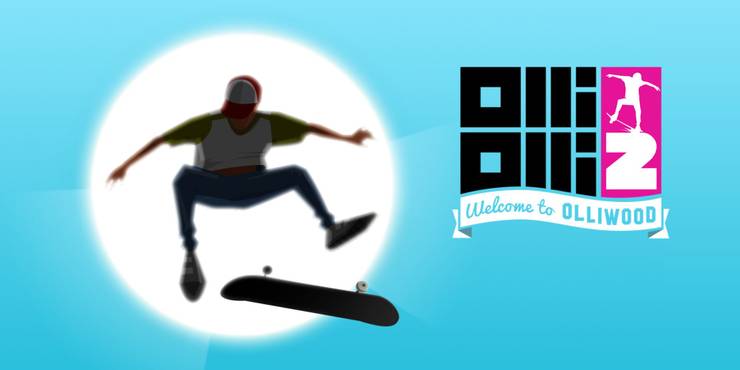 After the success of the first game, OlliOlli 2 took what was good about the first game and made it even better. It also added a lot of new mechanics and features. The game's cleaner style made for some really fun settings, and skateboarding has never felt better.
With its many new and difficult levels, OlliOlli 2 pushed players further than ever before, letting them reach new heights of combos and complete goals that were once thought to be impossible. The OlliOlli series keeps getting better, so skateboarding or arcade game fans shouldn't skip this one.
Weird West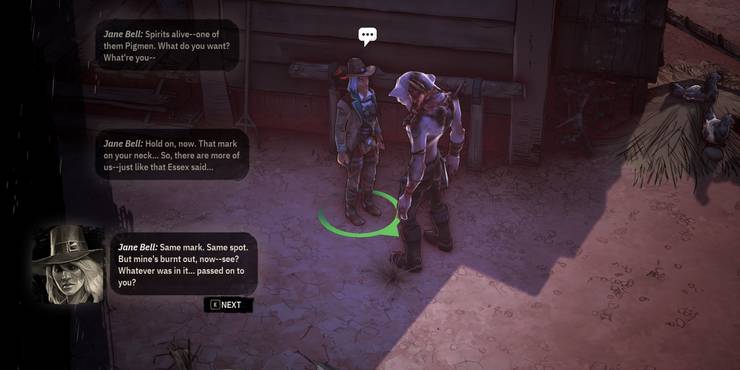 Weird West takes you to a strange, dark world full of cowboys and monsters. In this supernatural adventure, you play as five different people, learning their stories and finding out how they all fit into a larger plot.
You can expect the usual Wild West settings, but they are spiced up with cultists, magic, and creatures that will hunt you down and overwhelm you as you go deeper into the world. Be careful, because this is a deep RPG with many options, and it won't let you make mistakes.
My Friend Pedro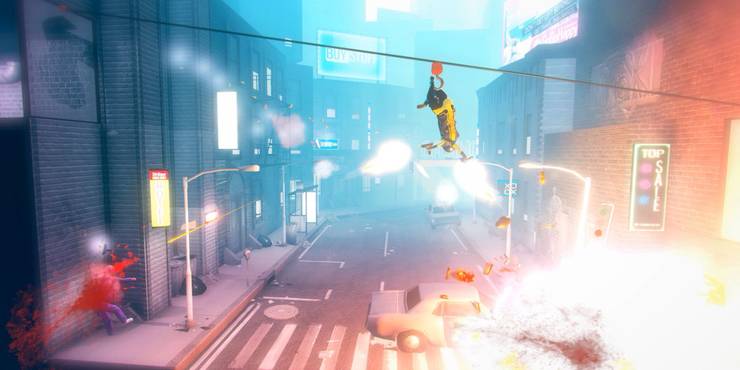 A man wakes up in a locked room and has no idea where he is or what's going on. That's okay, though, because the talking banana will teach you everything you need to know and you'll be killing criminals and bounty hunters in no time.
My Friend Pedro is a strange but very fun side-on action game where you learn about your past, fight off people who want your head, and maybe try to figure out what this banana is and why you can talk to it. Devolver Digital is known for making weird games, and My Friend Pedro fits right in with that.
Enter The Gungeon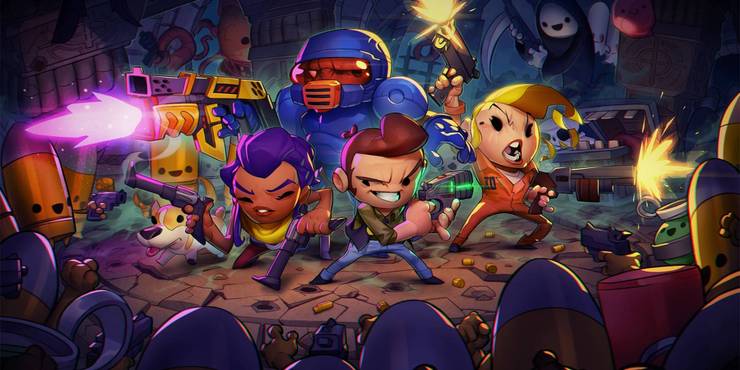 Enter the Gungeon is a well-known roguelike game that has made a name for itself in the genre. What's not to like about a game with different characters, hundreds of guns, and a dungeon where the bosses are always different and hard to beat?
If that isn't enough, why not face the Gungeon with a friend? In co-op, you and a friend can try to survive this "bullet hell" together, and you might just do it. If you haven't played this game yet, there's no better time than now to do so.
Exit The Gungeon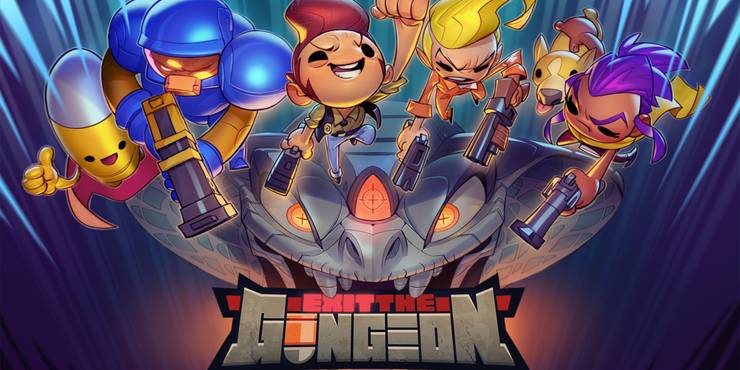 When you're done with Slope Game, what do you do next? Of course, leave the Gungeon! The smaller sequel to this great indie game brings the chaos of bullet hell to a 2D elevator, where you have to fight to stay alive and get back to the surface.
It's not as big or complicated as the original Enter the Gungeon, but it'll do if you've already played it to death. Even better, you can get the game on iOS through Apple Arcade. This makes it a fun little game you can play anywhere.
Cult Of The Lamb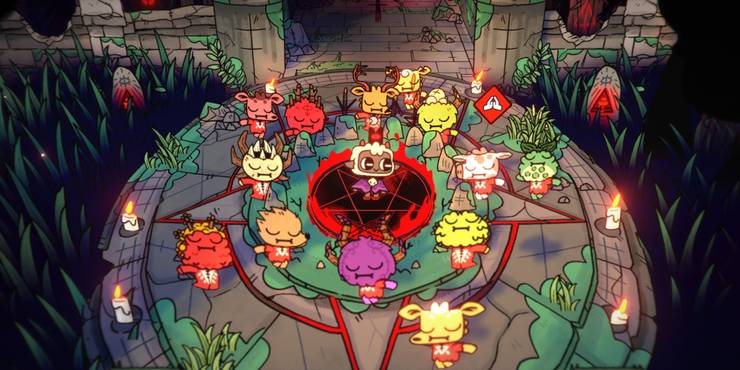 Cult of the Lamb is a game that almost everyone was interested in when it was first announced. In it, you play as a little lamb and grow a cult of animal residents. You decide how to do this.
Will you try to take care of your people and put your money where you think it's best? Or will you put the people who follow you before yourself and do what's best for you? No matter what, this dark and charming game is a great time and one of the best in Devolver's collection.
Katana Zero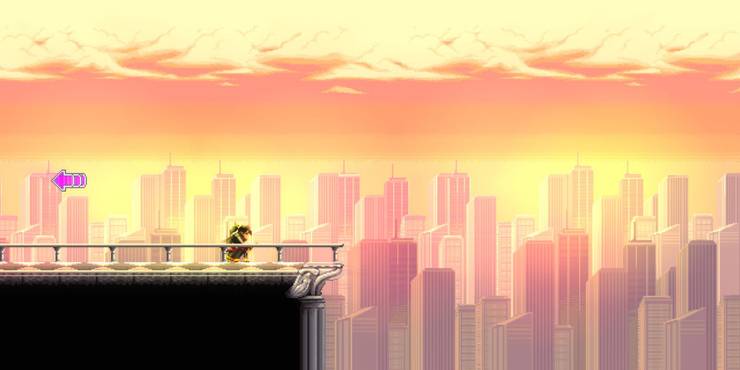 Nice story? Check. Excellent music? Yup. Addicting gameplay? Of course. Katana Zero is unlike anything else, and it has so much to offer that it's hard not to suggest it to everyone. In the 2D action game, you play as a modern Samurai who works as an assassin in a neon metropolis and has the power to slow down time.
You'll face a whole level of enemies, and you'll have to move quickly to avoid being seen and killed. If you die, the game goes back to the beginning of the stage. This is your character's way of thinking about what to do next. Katana Zero's story goes much further than you might think, but even if it didn't, the gameplay is thrilling and the upbeat music is great.